BIO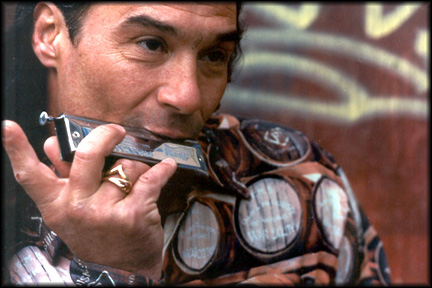 James "LOOSE" Reed
The founder and driving force behind this high energy, not 'sit on the porch' band - Mojo Madness.
James Reed (aka - the Mojo Man) founded the Mojo Madness band in 1995. Throughout the years he has developed his skills in such a way that his harmonica and vocals are passionate, soulful and always entertaining. His on-stage personality is mesmerizing - especially when he takes the show off stage and plays among the audience, whose reaction is one of delight and awesome appreciation of the Mojo, which is in their life now.
Starting at the age of thirteen, James Reed perfected his skills in harp and vocals, plus a patient family who encouraged him despite many hours of practice. It was up hill from there bringing Mojo Madness to incredible heights to those who were searching for a bit of Mojo in their life. As we know...we all need some Mojo!
The Mojo Man did his stint as a resident in the South lands of America. His music was greatly influenced through living and working in places such as Florida, Alabama, and Louisiana. This is where the music matured and became what it is today.
Over this 10-year span, James Reed has shared the stage with such greats as Taj Mahl, Edgar Winters, Billy Branch, Jimmy Witherspoon, Johnny Nitro and Joan Baez. He also had the privilege to perform on stage at the White House, Washington, DC.
Mojo Madness has entertained at numerous venues and prestigious events throughout the West Coast. The current release of their latest CD - 'Just Like We Rehursted It' - has produced an individual sound that enhances their talent and true virtuosity.
The Music
Start with high energy Blues, throw in a few hints of Texas Boogie, Chicago Swing and Delta Blues...and you've got Mojo Madness. Passionate vocals and a powerful harmonica lead the bulk of the show. James Reed and Mojo Madness have been giving Bay Area audiences a great time listening and dancing to extraordinary music for over 10 years. In addition to playing original material, the band also puts a new spin on vintage and modern blues cover tunes. Every show is full of surprises - but one thing remains the same, people of all varieties are entertained each time.
Performances
Lou's Pier 47 - San Francisco
Eli's Mile High Club - Oakland
JJ's Blues Club - San Jose
Grant & Green - San Francisco
Shasta Blues Society - Shasta County
Tapestry & Talent Festival - San Jose
San Mateo County Fair - San Mateo
Market Street Association - San Francisco
War Memorial - San Francisco
Albatrus - Reno
Red & White Ferry - San Francisco
Crawdad Festival
Cherry Festival - Alameda
Mojo Lounge - Fremont
Elk Grove Brewery - Elk Grove
Promotions
Maintains and grows a mailing list of over 500 fans throughout the West Coast
Calendar of gigs sent out regularly to local broadcast and print media
Current and constantly updated website : www.mojomadness.com
The band supplies in-house promo
Press releases for special events are distributed as needed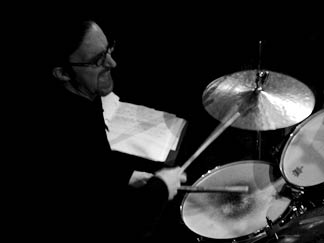 Andrew Griffin (Drummer)
www.eastbaydrums.com
Andrew Griffin is a professional drummer, drum teacher, producer and all around musical handyman located in the San Francisco Bay area. Andrew has been performing, recording and touring for over 20 years with experience in rock, jazz, blues, R&B, funk, Brazilian/Afro Cuban, gospel and musical theater. Andrew is currently accepting students and select offers for performing, recording and producing.
Andrew Griffin is a drummer with many different sides. Whether he's playing rock, jazz, funk, or blues, Andrew plays for the song, and always in the pocket. Andrew works as a drummer, drum instructor, and session musician, performing and recording with musicians and groups including ViV (rock), The Bloody Lovelies (rock), The Gun and Doll Show (rock), The Rich McCulley Band (Americana), Delta Wires (blues & funk), and PC Munoz & the Amen Corner (spoken word funk).
Andrew teaches private lessons at his East Bay Drummers' Studio in Oakland, California. In May, the California Percussive Arts Society sponsored Andrew's drum clinic, Essentials of Funk Drumming , as part of their annual Oakland Day of Percussion.
Andrew is a graduate of Berklee College of Music in Boston where he studied with drumming greats Kenwood Dennard (Jaco Pastorius, Maceo Parker, Sting), Joe Hunt (Bill Evans, Stan Getz), John Ramsey (the Jazz Messengers), and Gary Chaffee (Gary Burton). Andrew combines the lessons learned from his Boston mentors with inspiration from his favorite performers, Steve Gadd, Ringo Starr, and Art Blakey, to create a musical, groove-oriented sensitive playing style that's all his own.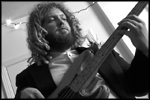 Peter Canton (Bassist)
Peter Canton has been a student of the bass for more than 17 years. Having been born in Fresno, Ca in 1980, he left at the age of 18 to pursue a music career in the Bay Area. Since his move Oakland, Peter has performed or recorded with Bernie Worrell, The Hot Club of San Francisco, Stanton Moore, Ice-T, The Modesto Symphony, Will Kenedy, Karl Denson, The North Mississippi Allstars, Bill Bell, the Bible Dusters, and many others. With his vast experience playing R&B, jazz, classical, rock, and blues, he and his bass have traveled around the world numerous times. Peter is always looking for interesting projects where he can expand not only as a bassist but as an arranger as well. In addition to gigging and recording, Peter teaches beginning through advanced bass lessons where he eagerly promotes the virtues of the three T's. Time, Taste, and Tone. While his influences are all over the board, ranging from the Flaming Lips to Bach, Peter believes versatility is key to one's development. While currently residing in Alameda, Peter still finds time to study with his mentor and guru Carol Kaye.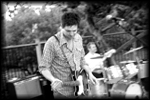 Darrin Fox (Guitar)
Raised in the Central Valley town of Manteca, Darrin Fox began playing guitar at the age of 14. Initially inspired by Jimi Hendrix, Fox eventually culled inspiration from players such as Roy Buchanan, Peter Green, Dick Dale, Steve Cropper, Mick Taylor, Frank Zappa, Billy Gibbons, and honky-tonkers Roy Nichols and Don Rich. Fox has been performing, recording, and touring for 20 years in a variety of musical settings such as blues, big band, rock, punk, country, rockabilly, and R&B. For the past ten years, Fox has been an Associate Editor at Guitar Player magazine, where he has interviewed some of the guitar's most legendary players including Eric Clapton, Les Paul, David Gilmour, Carlos Santana, Jimmie Vaughan, Al Di Meola, Adrian Belew, Allan Holdsworth, Herb Ellis, Nels Cline, Bill Frisell, Matt "Guitar" Murphy, among many others.